Prošli put smo pisali na temu Alfaparf show u Srbiji koji će se održati u Beogradu 09.10.2018. u Top of the Hub Ušće. U prošlom tekstu ste mogli da pročitate detaljnije o poznatim svetskim frizerskim imenima koji će nastupati na ovom događaju, kao i o frizerima iz Srbije. Sada možete da vidite i konačni spisak frizera iz Srbije, kao i plan i program samog događaja. Cena karte za ovaj show je 50eu. Obezbedite svoje mesto na vreme.
Velika nam je čast da ćemo u Srbiji ugostiti frizerska imena kao što su: Ruslan Tatyanin, Francesco Arancio, Eliabe Moreira. U prošlom tekstu možete detaljnije pročitati o njima, kao što možete videti i njihove instagram profile klikom na njihova imena u tekstu.
Što se tiče srpskih predstavnika konačan spisak izgleda ovako: Ivana Blagojević, Aleksandar Dodić, Liptak Tibor, Jasmin Smajović, Mirko Gođevac, Gavrilo Vujović, Sava's.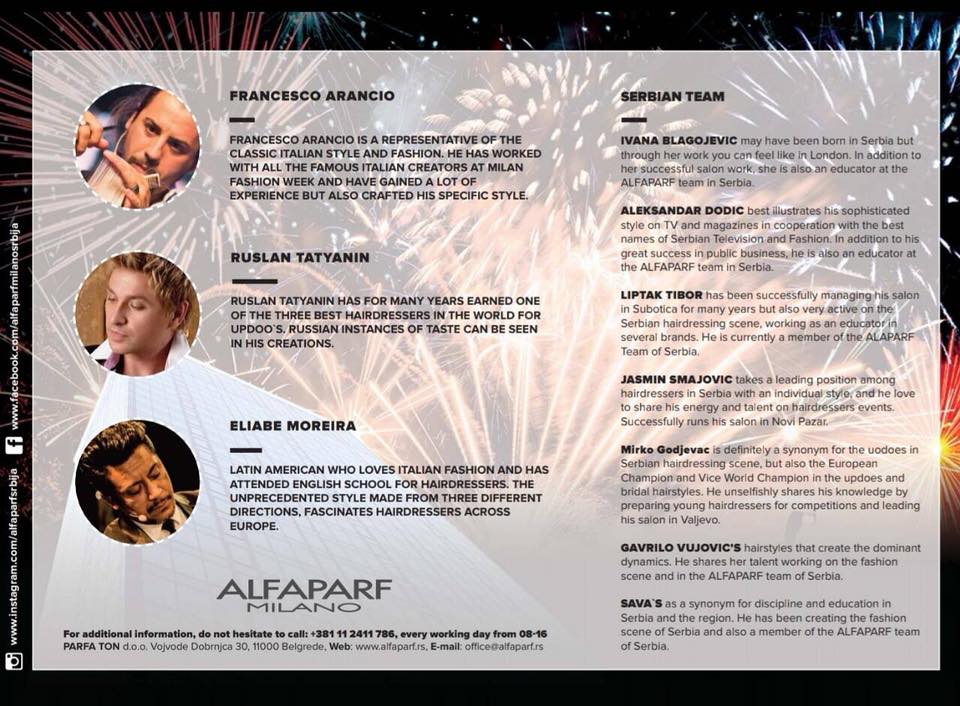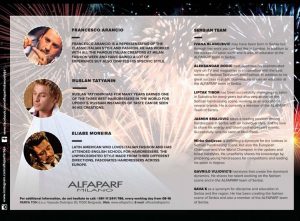 Ono što vas sve zanima je satnica i program samog događaja. Ovaj događaj je poseban i zbog toga što je njegovo trajanje 8h, da dobro ste pročitali. Posle nastupa je za sve gledaoce obezbeđen koktel i dj. Pogledajmo o samom rasporedu nešto više:
17:00 – Okupljanje i piće dobrodošlice 
18:00 – Predstavljanje
18:10 – 18:40 – Alfaparf team Serbia
18:40 – 19:20 – Ruslan Tatyanin
19:20 – 20:00 – Eliabe Moreira i Francesco Arancio
20:00 – Završetak nastupa
20:10 – 01:00 – Gala večera, After party
Iskoristite mogućnosti ovakvog događaja. Ne samo da ćete imati prilike da gledate na bini vrhunske frizere, nego ćete nakon toga imati mogućnost da upoznate nekog od njih, i napravite pravi networking. Ako do sada niste kupili kartu za ovaj show, savet vam je da to uradite što pre. Cena karte je 50eura za jednu osobu, a kartu možete nabaviti od nas. Ostavite poruku u komentar ili na neki od naših profila na društvenim mrežama ili pozivom na broj.
Ne dozvolite da vam prepričavaju kako je bilo, budite vi ti koji će te drugima pričati kakav je bio Alfaparf show u Srbiji!